InstoneAir are highly experienced in transporting horses internationally whether for racing, polo, competition, breeding or re location. We offer regular scheduled service flights and also charter flights depending on suitability and availability. All horses are flown in our world-renowned 'Airstable' horse stall range, meaning that they are safely contained whilst onboard and during transfer to and from the aircraft. Our experienced team of grooms and loadmasters are always on hand to assist during the on/off loading process and throughout the flight.
Horse Scheduled Charters
Depending on suitability and availability, we use regular scheduled cargo carriers. On scheduled service B747 / B777 / MD11 aircraft, the self-contained InstoneAir Airstable can be used. It is recognised worldwide as the best available for scheduled service flights, allowing the horse to travel as comfortably and safely as possible in order to arrive in the best condition.
Once a scheduled service booking is confirmed, Airstables will be allocated. Each stall is checked by our service department to ensure it is in good condition, as well as being cleaned and disinfected before being deployed to the next destination. Where possible, AirStables are deployed to airports where return loads can be obtained, minimising the number of containers that are (de)positioned empty.
On most flights an InstoneAir representative is on hand to assist with the loading of the horses and operation of the container.
With our extensive network of airline contacts around the world, we can always find a flight to suit your requirements, please contact us for quotes and schedules.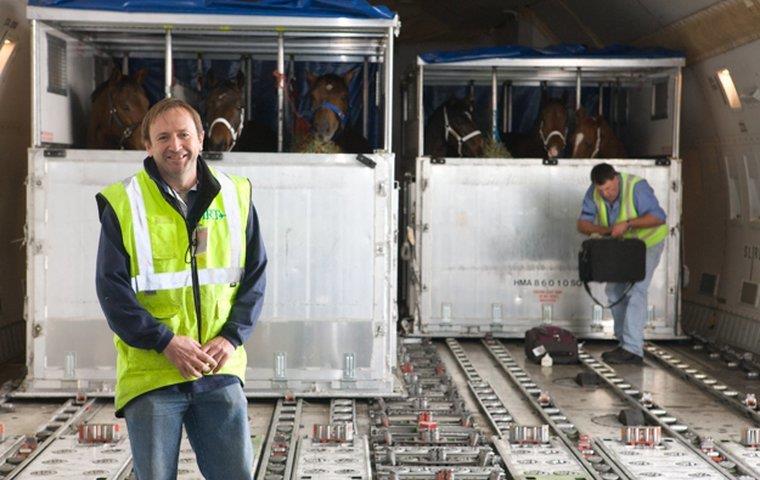 Once a charter is booked, InstoneAir follows a set procedure to ensure all requirements are carried out and logistics are co-ordinated to avoid any delays or problems;
Types of horses are checked ie. are they thoroughbreds, show jumpers, eventers, horses in training, yearlings, polo ponies etc. Different sizes and types of horses have varying travel and space requirements.
After discussing with the shipper the correct type of stall is allocated – quads; triples; doubles  etc
An InstoneAir loadmaster is assigned to the charter.
Ground handling facilities are checked. Availability of hi-loader (main deck or belly loader); loading ramps (if a walk-on system is being used); availability of fork lifts; cleaning equipment etc. is established.
Relevant Department of Agriculture regulations are checked in country of origin and destination. Do aircraft / horse stalls need disinfecting and is an agriculture department cleaning certificate required?
Protective materials ordered – polythene / cellotex / soft board / Skymat.
Equipment is positioned to the departure airport.
Grooms are assigned if not provided by shipper; we will provide up to 17 grooms on a B747 from a pool of professional flying grooms. These grooms are trained and familiar with airline procedures and the special requirements of animals while in flight.