Airstables
The original Airstable was designed by InstoneAir in 1983. Since then we have developed a full range of models originating from this highly successful design. We design and manufacture horse stalls to fit any aircraft type in any configuration, a comprehensive range of design options and features can be incorporated to meet an airline's specific requirements.
Horse stalls from our Airstable range and livestock containers are generally used on wide bodied freighters such as B747 / B777 / MD11 but can also be centre loaded onto A310 / B767 etc. There are 5 main types;
Airstable Rigid – fully enclosed.
2. Airstable Droptop – roof lowers for belly positioning.
3. Airstable Fully Collapsible – 3 or 4 can be stacked for economical positioning.
4. Charter stall wide bodied – fully collapsible light weight and generally used on wide bodied charters.
5. Charter stall narrow bodied – generally used on B737 / B757 / A310 / AN12 charters
We are very flexible in the way Airstables can be provided:
Ad Hoc Rental: rental on a per use basis.
Contract Rental: a fixed price per stall for a set period, regardless of the number of uses. It might be for a week, month or year and can include maintenance.
Outright Sale: stalls are available for purchase and can include a maintenance or spares package. Most spares are available ex stock from one of our depots in UK, USA, Australia, Middle East or Hong Kong.
Our sales and design departments will be delighted to discuss your requirements.
Airstable Rigid
The Airstable Rigid is generally regarded as being the best container on the market to transport horses. It is a fully enclosed rigid container consisting of a light alloy frame, attached to GRP faced paneling built onto a steel base. Featuring adjustable partitions, non-slip rubberised floor and adjustable ventilation to control light and airflow.
It can accommodate 3 large horses in individual stalls.
Features
Designed for wide bodied aircraft – B747 / B777 / MD11 etc. with Left or Right or Double Contoured Roof (B777 / MD11)
Can also be centre loaded on A300 / A310 / B767
Converts quickly to cargo configuration
Simple to operate
Compatible with existing Unit Load Devices and has standard handling requirements
4 way forklift base (optional)  & attaches to 125/96 pallet (PMC/ P6P)
Fully adjustable partitions to provide variable width for each horse
Fully protects horses both in the aircraft and while on ground equipment
Ramps at both ends for (un)loading
Rear internal doors (optional)
Sliding hatches each side for groom and vet access
Non slip rubberised floor
Entirely leakproof to prevent contamination of aircraft structure or other cargo
Easy to clean and disinfect
Adjustable ventilation apertures to control light and airflow
Airstable Droptop
The main feature of the Airstable Droptop is that the roof can be lowered to belly height (63"/163cms). This enables the container to be (de)positioned in the belly holds of an aircraft and can be used to carry smaller animals such as sheep, goats, calves etc. or other general cargo. The Airstable Droptop incorporates many of the design features and options found in the Airstable Rigid and when in use with the roof raised, is a similar size.
Airstable Fully Collapsible
The Fully Collapsible Airstable enables 3 or 4 containers (depending on model) to be stacked on a lower deck aircraft pallet for (de)positioning. It takes around 15 minutes for 2 people to assemble each container. Many of the features found on the Rigid and Droptop models are incorporated in the Fully Collapsible Airstable and it is designed to fit all wide-bodied freighters. A particular feature is the interchangeable and reversible solid roof making it extremely versatile.
The container can be fitted with a B747 non contour roof or changed to a single contour B777 roof which can be reversed to fit the left or right side of the aircraft. It is the only horse stall manufactured anywhere in the world to incorporate this very useful feature.
Charter Stall – Collapsible (wide bodied)
The collapsible stalls used on wide bodied aircraft are similar in dimensions to the 'Airstables' and also have groom access. They attach to 125/96 pallets (PMC/P6P) fit B747 / MD11 / B777 aircraft and can be centre loaded on A300 / A310. A canopy can be fitted if required, which can also be adjusted to control ventilation or light.
The stalls have adjustable partitions and individual front doors. These are generally used on full or part charters rather than scheduled services. They can be collapsed quickly for palletisation and can be loaded into standard 20'/40' sea containers for economical (de) positioning.
Charter Stall – Collapsible (narrow-bodied)
The 'walk on/off' system is generally used on narrow bodied aircraft such as B757 / B737 / B727 / 146 / AN 12 / AN 74, as well as A300 / A310.
Horses are loaded via a ramp or loading box which is a fast, safe way to load them. The system is designed for quick/compact palletisation for economical positioning.
There is also a stall designed specifically for use on B737 aircraft, which can be used as a 'walk on/off' system or loaded by Hi-Loader.
InstoneAir developed a super lightweight, high strength collapsible aluminum/composite B747 / B777 / MD11 cattle pen. The design enables more cattle to be carried on a long sector than other conventional types of penning system. The pens are very thin and light, also allowing more floor area to be utilised than on other systems.
A full B747 set of pens is about 10,000lbs lighter than conventional wooden or aluminium types, thereby making available a significantly higher payload.
The use of the InstoneAir cattle pen permits approx. 6 extra head of cattle at 1,500 lbs each to be carried on a B747 charter.
On a large contract or series of charters this is a very important advantage; a full B747 charter normally carries 135 head of cattle of the type imported by Japan.
Loading Ramps and Inspection Pens
InstoneAir has designed and constructed a variety of loading ramps, dolly ramps and veterinary inspection pens for horses and livestock.
Static ramps are generally for 'walk on/off' charters and can be used for both horses and livestock. We have InstoneAir ramps in Europe and USA and they can be positioned at an airport by towing or loaded on a low loader. There are a variety of designs, some with power-driven hydraulics, allowing the ramp platform to be raised or lowered in seconds at the touch of a button and others that are raised and lowered manually.
We also manufacture portable ramps designed to be carried on board aircraft to be used for charters, where no static ramp is available.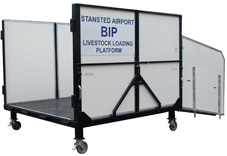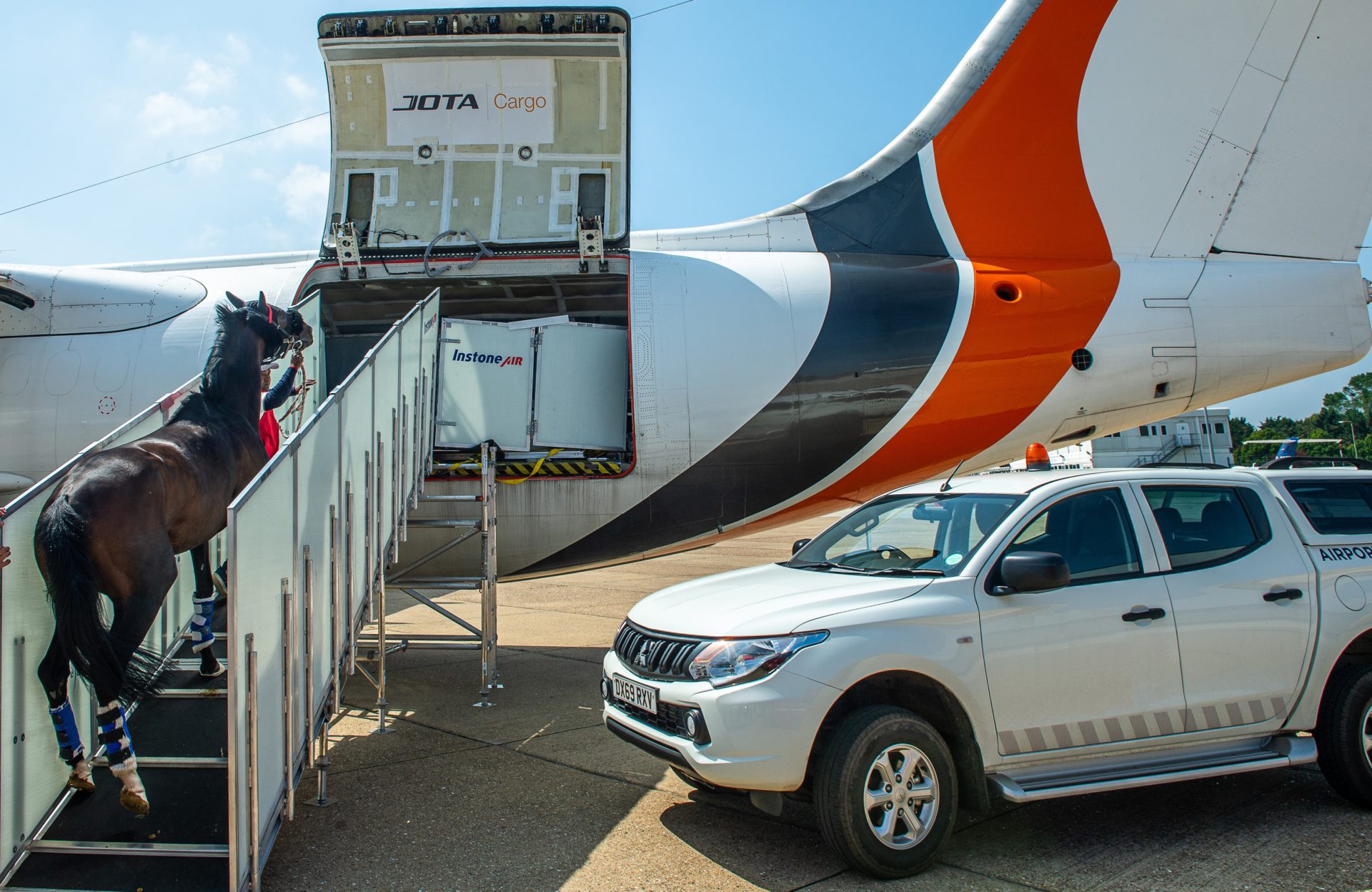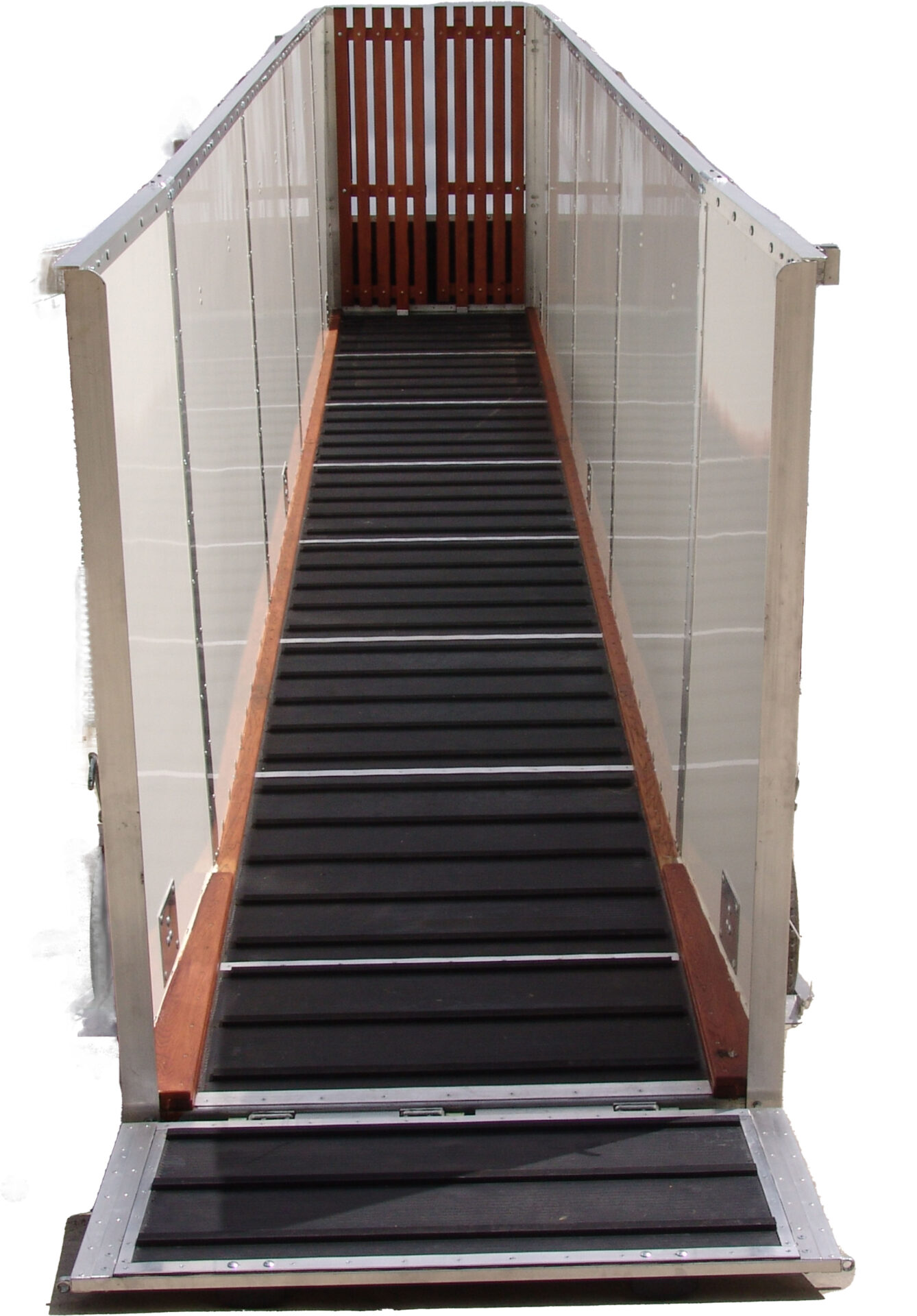 Dolly ramps are available to load horses from the ground into Airstables. These are either heavy-duty , static types or portable so that they can be carried around on an aircraft.
We have also designed veterinary inspection pens so that vets can inspect horses being unloaded from Airstables in a safe, secure environment. Horses walk out of the Airstable and straight into the inspection pen, they can then walk directly into a truck from the inspection pen meaning that they do not need to touch the ground – aside from the safety aspect, this is also a quarantine requirement in some countries.