Services
Although InstoneAir is best known for the air transport of animals including horses, livestock and zoo animals we are also actively involved in other areas of the aviation industry. Through our links with major airlines we can provide innovative and cost-effective solutions to meet all of our clients needs. Services include:
General Sales Agents representing airlines and acting as bloodstock marketing office for both scheduled and charter services.
Bloodstock Charter Brokers supplying a range of charter aircraft equipped with InstoneAir stalls.
Freight Charter Brokers providing suitable charter aircraft around the world, at competitive prices.
Provision of horse stalls for both narrow and wide-bodied aircraft, for scheduled services and charters. Equipment is available to purchase, rent on a per use basis or lease for long-term periods.
Design and construction of cattle pens, livestock containers and ancillary loading equipment, such as loading ramps, animal quarantine inspection pens, dolly ramps, loading corrals etc. 

Consultancy

 which could include developing a complete system for airlines not familiar with the transportation of animals or advising on transport of zoo animals and exotics, including provision of suitable crates/pens.
Provision of fully qualified grooms and loadmasters for livestock flights.
Quarantine premises designers. Design, construction and operation of Border Inspection Posts, such as that in use at Stansted Airport.
General Sales Agent (GSA) 
We have GSA or marketing arrangements and provide containers to many of the leading freighter and combi operators. Our 'Airstable' range has been used on a contract or ad hoc basis for both scheduled services and charters with a large number of airlines, including:
Air Canada, Air China Cargo, Air New Zealand, Air Transport International, ANA, Atlas, British Airways, Cathay Pacific, DHL, DXB Airwing, Emirates, EVA, Fedex, Lufthansa, Malaysian, Martinair, MNG, NCA, Polar, Qantas, Qatar Airways, Saudia, Singapore Airlines, ULS and many others.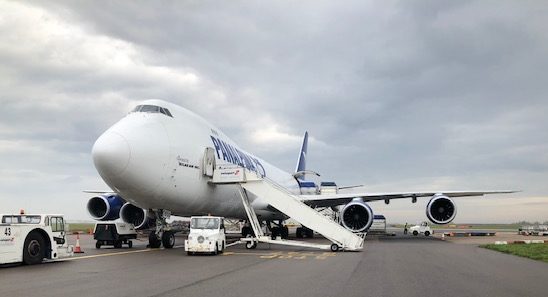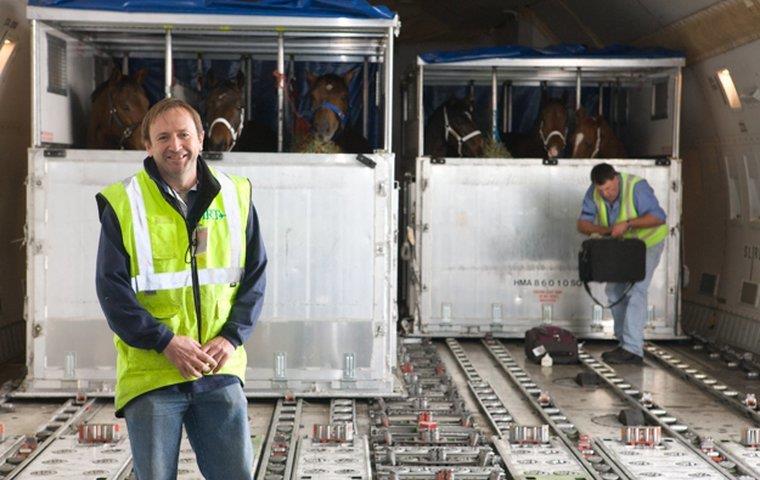 Horse Scheduled Charters
InstoneAir uses regular scheduled cargo carriers. On scheduled service B747 / B777 / MD11 aircraft, the self-contained InstoneAir Airstable is used. It is widely recognised as the best available, allowing the horse to travel as comfortably and safely as possible in order to arrive in the best condition.
Once a scheduled service booking is confirmed, appropriate Airstables will be allocated. Each stall is checked by our service department to ensure it is in good condition, as well as being cleaned and disinfected before being deployed to the next destination. Where possible, Airstables are deployed to airports where return loads can be obtained, minimising the number of containers that are (de)positioned empty.
On most flights an InstoneAir representative is on hand to assist with the loading of the horses and operation of the container to avoid unnecessary delays.
With our extensive network of airline contacts around the world we can always find a flight to suit your requirements, please contact us for quotes and schedules.
Horse Charters
InstoneAir also operates horse charter flights. Once a charter is booked, we follow a set procedure to ensure logistics are seamlessly co-ordinated to avoid any delays or problems;
Type of horses checked with shipper ie. thoroughbreds, show jumpers, eventers, horses in training, yearlings, polo ponies etc. as different sizes and types of horse have varying travel and space requirements. We can then allocate the correct type of stall.
An InstoneAir loadmaster is assigned to the charter.
Ground handling facilities are checked. Availability of hi-loader (main deck or belly loader); loading ramps (if a walk-on system is being used); availability of fork lifts; cleaning equipment etc. is established.
Relevant Department of Agriculture regulations are checked in country of origin and destination. Do aircraft / horse stalls need disinfecting and is an agriculture department cleaning certificate required?
Protective materials ordered – polythene / cellotex / soft board / Skymat.
Equipment is positioned to the departure airport.
Grooms are assigned if not provided by shipper; we will provide up to 17 grooms on a B747 from a pool of professional flying grooms. These grooms are trained and familiar with airline procedures and the special requirements of animals while in flight.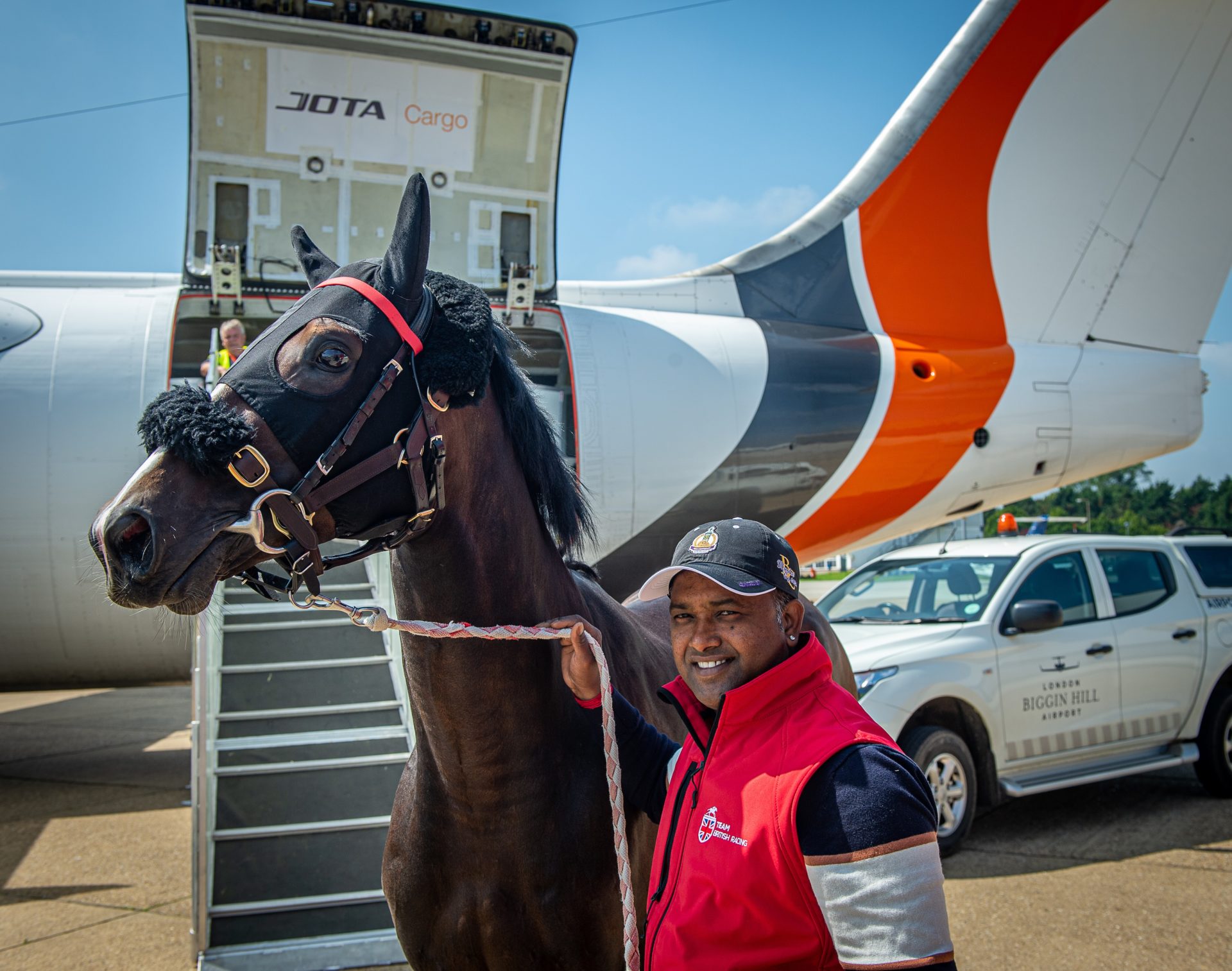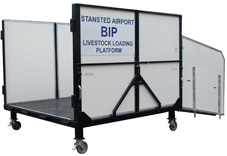 Quarantine Premises
With our knowledge of the complex design requirements and EU regulations surrounding quarantine premises, we can design, construct and operate Border Inspection Posts (BIP).
InstoneAir designed and constructed the Stansted Airport Border Inspection Post (Stansted BIP). This facility is used to inspect live animals and animal products on entry into the EU from non EU countries. The project included close liaison with BAA / DEFRA / EU Commission and it took some 3 years from conception to completion. 
The invaluable experience gained running this project is now available to others wishing to construct similar facilities, with InstoneAir acting as consultants.
Loadmasters / Grooms
An essential element of bloodstock transport is groom expertise and experience. InstoneAir provides highly experienced, trained flying grooms if required. All grooms are certified by ATA or hold a NVQ qualification and a certificate of competence issued by UK agriculture department DEFRA.
InstoneAir loadmasters travel on every charter flight. They are responsible for the following to ensure that the flight goes smoothly:
Pre-flight load planning
Assembling horse stalls and ensuring they are secured to the aircraft pallets
Loading horses into the stalls
Feed / watering / inspection during flight
Monitoring temperature / humidity during flight
Offload of horses / stalls and dismantling of the stalls
Disinfection and stall cleaning
Palletisation of or re-installation of the stalls in the aircraft, whichever is required
Reporting any stall damage to the UK maintenance base
Liaison with the shipping agent / exporter and reporting to the InstoneAir Operations Centre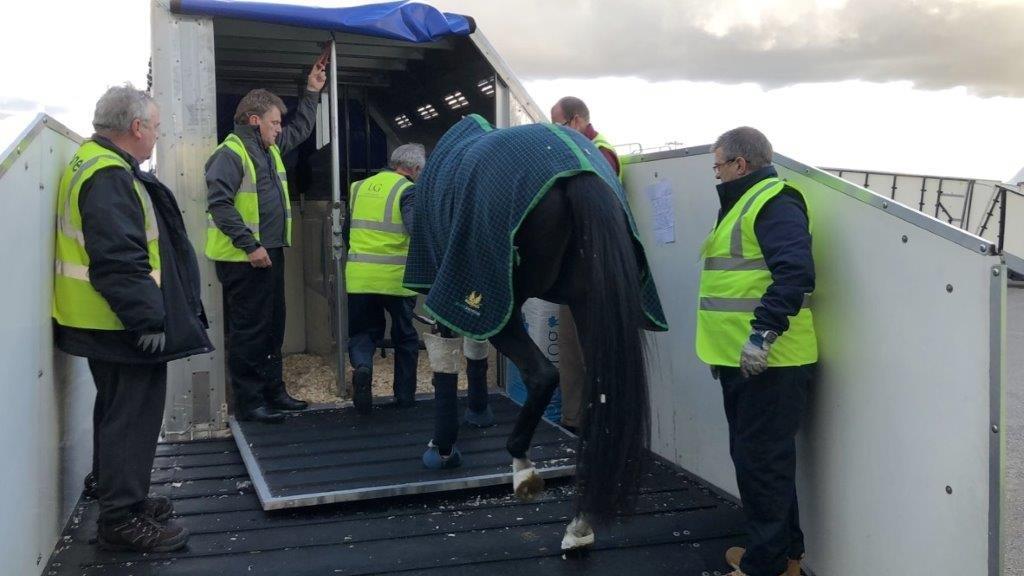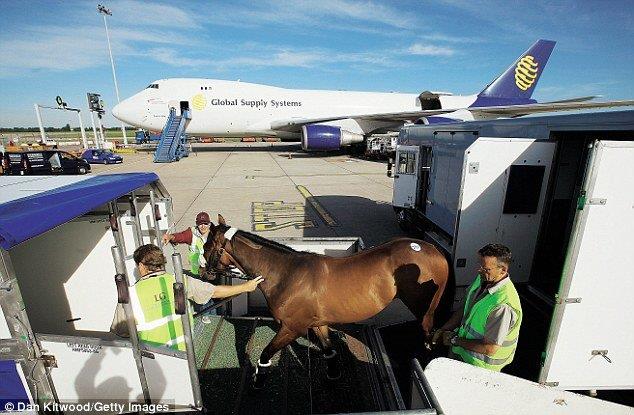 Consultancy
InstoneAir offers a consultancy service providing comprehensive advice and recommendations to airlines unfamiliar with animal transport or for companies requiring consultancy for specific projects. Our services include;
Advising on the most suitable stall types for a particular aircraft and route, for example; rigid non-collapsible, partially collapsible or fully collapsible for charters
Completing market analysis, cost evaluation and revenue projections for a specific route
Advising on stocking densities, temperature control, groom numbers, loading methods, tranquillizer regulations, transit permit requirements and ensuring all IATA, CITES, government and agricultural regulations are adhered to
Suggesting the most effective ground handling procedures
Recommending the most appropriate airports to use and the most efficient handling companies. Some airports and handling companies are better-equipped to handle livestock than others.
Freight Charter Brokers
InstoneAir also has a very active general cargo charter department, often having return availability after a livestock charter. 
Our database holds details on thousands of the world's airlines and freighter aircraft, enabling us to source the most appropriate aircraft to fulfil your specific needs – at the most cost effective price. We offer custom made solutions to all your charter problems and can offer a diverse range of aircraft from a Cessna Caravan to the giant 120 ton capacity Antonov 124.
Types of charters include:
Livestock
Urgent shipments – oil field parts – ships spares – production line components
Outsize cargo – off line or too big or heavy for scheduled flights
Hazardous – cargo aircraft only
Relief supplies – humanitarian aid, generators
Perishables
Bands on tour
Sub-service, supplemental aircraft, contract flying or long term leases
We handle all aspects of a cargo charter, including:
Provision of aircraft
Arranging aircraft and cargo handling
Traffic rights
Fuel and road transport
Organising crew transport / hotels